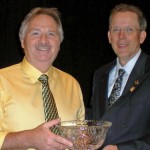 Dr. Marlin Meharry (left) of Harvey, ND, received the 2011 North Dakota Dental Association Outstanding Achievement Award. Marlin Meharry is not just a dreamer, although he dreamed all his life of serving others across the world and pursued a dental degree to help achieve his dream.
Read more at the source: Dakota Dentist Awarded
Article excerpt posted on en.intercer.net from Outlook Magazine.