Flipping through the new quarterly, there are a number of titles that have the word 'love' in them – Love, to Be Loved; To Love God; He First Loved Us; To Love the Lord Your God; to name just a few. Hence, I believe a wonderful hymn to devote to as a theme will be
Hymn 349 – God Is Love. Our first Memory Text says "for God is Love", 1 John 4:8. As the book of Deuteronomy is the book of the covenant, it would also be good to add
Hymn 347 – Built On the Rock as verse four tells us of God 'Making with us His covenant".
Oh the joy of being able to have the Everlasting Covenant which we find in
Hymn 469 – Leaning On The Everlasting Arms of our Lord Jesus.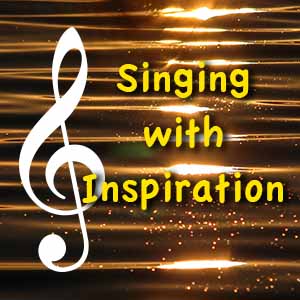 The story in
Hymn 394 – Far From All Care (verse 2) tells "a remnant love Thee and remember Thy holy law and each sweet Sabbath hour" as the people are instructed in our lesson study this week. One beautiful part of the commandments asks us to remember – "Remember the Sabbath….".
Hymn 388 – Don't Forget the Sabbath uses the other words in our lesson title 'Do not (don't) forget'.
We are reminded of the love of our God in the rainbow, as is sung in
Hymn 76 – O Love That Will Not Let Me Go (verse 3). God promises Noah, and us, to send no flood again to destroy the world. There are promises in
Hymn 682 – As You Have Promised Lord and today we can say we are
Standing on the Promises – Hymn 518. Sunday's study then ends with us trusting God and His Word –
Hymn 279 – Only Trust Him.
Moses, on Monday, continued to talk to the people, trying to point out how thankful they should be to God, and they should have been able to sing
Hymn 559 – Now Thank We All Our God and Hymn 566 – Father We Thank Thee.
Today we ask
Savior, Teach Me – Hymn 193 just as Moses was instructing the people to teach the next generation all that God had taught them (Tuesday).
Our General Conference brother's story on Wednesday invokes the thoughts of
Hymn 602 – O Brother, Be Faithful.
We finish up with Paul reminding the people of God's grace given to them:
Hymn 108 – Amazing Grace and
Hymn 109 – Marvelous Grace.
We are bound for The Promised Land! Hallelujah!! Come, Lord Jesus, come – very soon.
Blessings for a wonderful week ahead.
To learn unknown hymns, you will find the accompaniment music for each one at: https://sdahymnals.com/Hymnal/
Another great resource is for when there is a hymn you wish to sing, but can't find it in your hymnal. Go to https://www.sdahymnal.org and in the search bar type a special word in that is in the hymn. I am sure you will be amazed at the help you will be given.
2 Timothy 2:15 KJV – "Study to shew thyself approved unto God, a workman that needeth not to be ashamed, rightly dividing the word of truth."
Amen!

(

0

)
The post 10: Remember, Do Not Forget – Singing with Inspiration appeared first on Sabbath School Net.
Source: https://ssnet.org/blog/10-remember-do-not-forget-singing-with-inspiration/