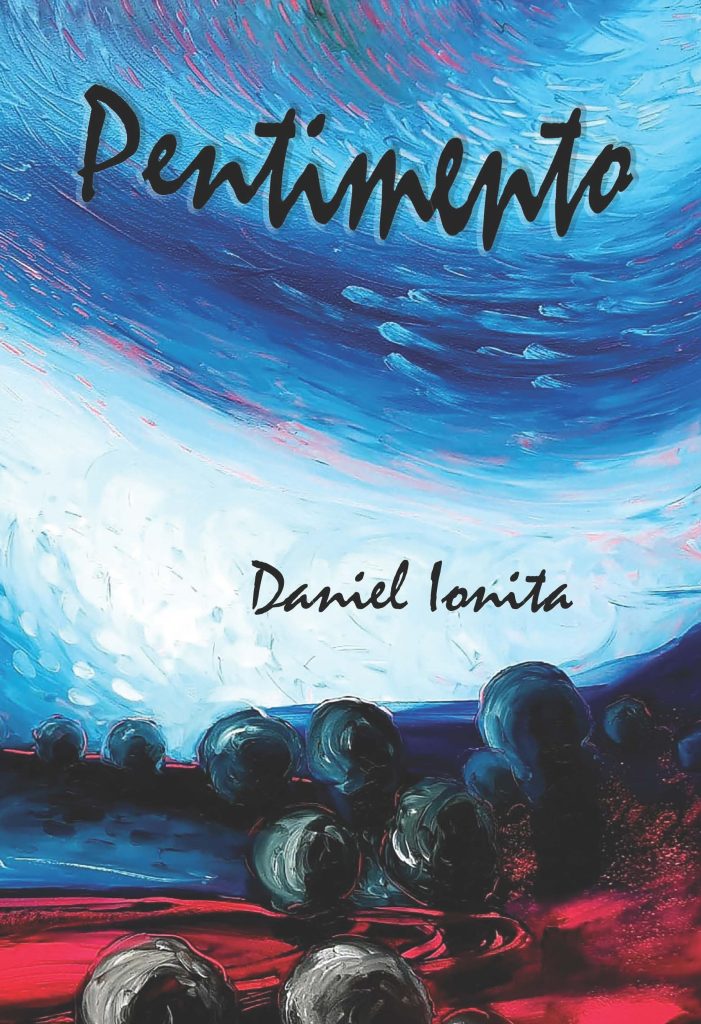 Below are a couple of links to my new volume-collection Pentimento, published by Interactive Publications. I am very HAPPY with the way it turned out, an arresting realization both cover and content!! (a couple of mistakes on the online-version of the cover will be fixed in a couple of days – see if you find them!)
The title for the volume (which I believe suits it perfectly… of course I would say that…) was inspired by Judith Beveridge, who employed this word/concept as a metaphor and analogy in one of her poems. The cover is from a painting by the amazingly talented Nelus Oana, from Melbourne! Thank you Nelus!!!
https://ipoz.biz/portfolio-single/pentimento/
https://ipoz.biz/ipstore/index.php?route=product/product&product_id=618
…from the Reviews
With poems often inventive and always gripping our attention, Daniel Ionita's Pentimento is a much-travelled collection that ranges over geographies, poets, dictators, titillations, violence, bitterness, love… musings on the eternal… and unexpected detours such as a plot to kill Santa.
– Paul Scully, author, The Fickle Pendulum
Ionita has succeeded – with dexterous flair – in meshing history with the biblical while ribbing authority and human excess through absurdity and surrealism – reminding the reader of Tristan Tzara and the Dadaists… This collection is a significant contribution to Australian poetry.
– James Gering, author, Staying Whole by Falling Apart
[Ionita's poems] are often enigmatic and paradoxical. But they also have a forthright energy and openness, a flair for drama and a desire to connect as well as to entertain… The imagery may be appealingly whimsical, but this is not simple…instantly clear… poetry. A flexible way of reading is required – preferably with a sense of humour and a willingness to respond intuitively to both the charm and the inherent contrariness…
– Jean Kent, on Daniel Ionita's Short Bursts of Eternity